Une enquête unique a été conduite sur un échantillon de 1022 citoyens iraniens par une équipe de chercheurs de l'Iran Media Program (Annenberg School of Communications de l'Université de Pennsylvanie) en collaboration avec Gallup. Le rapport final Finding a Way – How Iranians reach for news and information est disponible en ligne. Voilà quelques résultats saillants :
1) Les médias traditionnels (mélangés avec des liens forts « de proximité ») restent les sources d'information majoritaires : la télévision est le premier choix pour 96% des interviewés. La chaîne d'état IRIB demeure la plus regardée (62%), suivie par BBC Persian et Voice of America (accessibles par satellite). La presse suit, mais avec un écart important (45%). Peux après, l'information directe par les pairs, les amis, les voisins, les membres de la famille (38%). Avec ces derniers, on peut supposer que certains échanges se réalisent en ligne – par mail, chat ou sur des médias sociaux (mais ce résultat est mitigé, v. point 2). D'autant plus que la recherche d'information dans des lieux publics (transports, commerces, lieux de culte, etc.) n'est plus vraiment d'actualité à cause du climat politique actuel.
[Update July 27, 2012: so far, our study has been featured in a number of media outlets in UK, India, Algeria, US, Oman, Indonesia… These are just the ones we know of: The Daily Mail, Yahoo Lifestyle, CNN, Technorati, The Times of India, GigaOM, Buzzfeed, National Affairs, Sify News, Phys.org, Science Daily, Zee News TV India, Oman Tribune, The Free Library, L'atelier, Sciencenewsline, Le Soir d'Algérie, Tempo Indonesia. We're particularly impressed by this response, and would like to thank the researchers, journalists and activists who've been spreading the news.]
Hello everyone,
You have probably reached this page after reading in the international press about our study "Social Media Censorship in Times of Political Unrest – A Social Simulation Experiment with the UK Riots" (published in the journal Bulletin of Sociological Methodology, vol. 115, n. 1). This post will provide some background information.
Read the study
First of all, if you are interested in reading the paper, you can purchase the article from SAGE website. Anyhow, here's a preprint version you can download for free. Just saying.
About the authors
If you are looking for the authors' bios:
 Antonio A. Casilli, is an associate professor of Digital Humanities at Telecom ParisTech and a researcher in sociology at the Edgar Morin Centre (EHESS), Paris, France. He is the author of the social media theory book Les liaisons numériques [Digital Relationships], published by the Editions du Seuil. He blogs at Bodyspacesociety.eu, tweets as @bodyspacesoc, and is a regular commentator for Radio France Culture. You can contact him here.
 Paola Tubaro, is a senior lecturer in Economic Sociology at the Business School of the University of Greenwich, London, UK, and associate researcher at the Centre Maurice Halbwachs (CNRS) Paris, France. Economic sociologist with interest in social networks and their impact on markets, organisations, consumer choice and health, her research also includes work in the philosophy and methodology of economics and social science. Her blog is here, plus you can contact her here.
The story, so far
In the wake of the August 2011 UK uprisings, Casilli and Tubaro built a rapid response study. Using computer simulation, the investigators showed that any move by the government to censor social media was likely to result in more civil unrest, higher levels of violence, and shorter periods of social peace. Released as a joint post on their websites and subsequently available as a working paper on SSRN (Social Science Research Network), the study was widely shared online and in the press.
Such an enthusiastic response prompted them to continue their research. Presently, they are launching follow-ups and new developments, both empirical and theoretical, in other European and MENA countries. They are members of the scientific committee of Just-In-Time Sociology (JITSO), an EPFL Geneva-based program gathering international researchers that try "to understand social phenomena as they unfold".
TEDx talk, simulations and other stuff
If you want to watch a video presentation of the study, here's Antonio Casilli's TEDx talk (in French, with English subtitles), "Studying censorship via social simulation", TEDx Paris Universités, May 19, 2012.
If you want to know more about our ongoing research, Internet Censorship and Civil Unrest (ICCU), here's the project's wiki.
If you want to download the computer simulation, here you'll find a detailed technical description of the model. The model file (Netlogo and Java applet versions) is available here . You should: 1) unzip and save all three files in the same directory; 2) either open the .nlogo file from your computer in Netlogo, or open the .html file in your browser).
Enjoy!
[UPDATE 05.06.2102: La vidéo de mon talk est désormais en ligne sur le site Web des conférences TED. Enjoy & share !]
Le samedi 19 mai j'ai été parmi les heureux conférenciers de l'édition 2012 de TEDxParisUniversités. A cette occasion, j'ai pu présenter au public français les résultats du projet ICCU (Internet Censorship and Civil Unrest) que je mène avec Paola Tubaro, enseignante-chercheuse à l'Université de Greenwich, Londres. L'accueil a été plus que chaleureux : la tweeterie m'a porté en triomphe, j'ai reçu les accolades des organisateurs et je me suis imbibé de l'enthousiasme d'étudiants et de militants de tout bord. J'exagère, mais pas tant que ça (suffit de lire le compte-rendu Storify concocté par Gayané Adourian ;). Voici donc le texte et les slides de mon intervention, en attendant la vidéo.
Aujourd'hui je vais vous parler des effets négatifs de la censure des médias sociaux, en passant par le cas des émeutes britanniques de 2011.

La censure est extrêmement difficile à étudier du point de vue des sciences sociales. Dans la mesure où elle est une interruption de flux d'information, les données relatives à ses conséquences et à son efficacité prétendue sont souvent inaccessibles aux chercheurs. C'est pourquoi nous devons nous appuyer sur une méthode innovante : la simulation sociale. Read more
I know I should be in Lyon for the www12 conference with all the Internet big shots, but instead I'm taking a plane and heading to Greece. The opportunity came via an invitation to deliver a speech at the New Sensorium, an international symposium that will take place on April 20-21 at the BIOS, in Athens. If you are around, you should definitely attend! The conference deals with some of my main research foci (digital technologies, media and the body) and it is the outcome of a collaboration between the Department of Communication, Media and Culture of Panteion University and the McLuhan Program at the University of Toronto (I was their guest a few months ago).
All throughout the month of February 2012 the Net artist collective RYBN is in residence at the Gaîté Lyrique, one of the hotbeds of the emerging art & technology scene in Paris. If you are in the French capital, I highly recommend paying them a visit.
I became acquainted with RYBN last year, when I met some of its members at a conference at the French National Library where I was delivering the closing speech, while they had presented their most recent project, Antidatamining VIII. ADMVIII (for short) is a trading bot, i.e. an artificial intelligence making real investments on real stock exchanges, collecting data and impacting financial markets worldwide. The bot monitors and maps data flows to create real-time digital visualizations such as charts, soundscapes, and timelines. It has an online page (where you can see how well it is doing, its net liquidity, the value of its shares, etc.) and a Twitter account providing details about ongoing orders.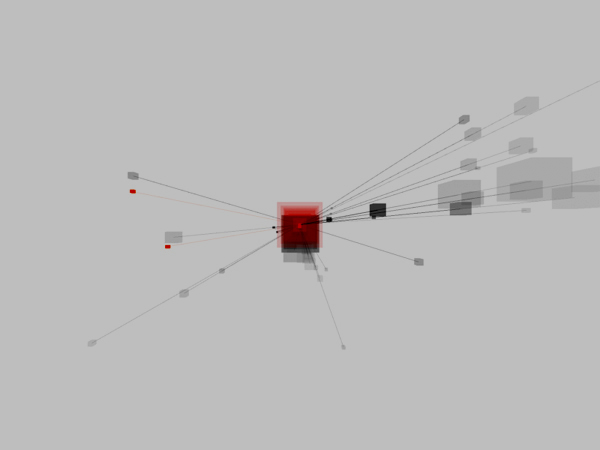 Source: Antidataminig – Offshoring map visualization
ADMVIII is not your run-of-the-mill social commentary about market greed and pervasive financial panic in modern life. The goal of the project is to detect economic imbalances and discrepancies introduced by robot trading. As the bot actually executes buy and sell orders online, it represents a détournement of automatic trading technologies. As such it is intended to highlight their social consequences – and their potential disasters.
Monday, October 24th, 2011. While facing a crowd of journalists and activists gathered at London's Frontline Club for a momentous Wikileaks press conference, Julian Assange looks nervous. Today he has to deal with the inner contradictions of his political project. No, I'm not talking about the legal consequences of his extradition case. Nor about the ongoing fratricidal struggle with his former associate Daniel Domscheit-Berg. Nor about the very polarized reactions to the whole Cablegate undertaking by the global audiences. I'm talking about this…
Yes, Julian Assange has many reasons to be nervous. After the financial blockade, the leak has been reduced to a tickle. « A handful of US finance companies have successfully blocked 95% of worldwide support for WikiLeaks ». Is there, as he implies, a conspiracy against Wikileaks? That would be ironic, as the very implementation of Wikileaks was supposed to single-handedly put an end to conspiracies (according to this seminal 2006 paper, penned by Assange himself). Well, not about as ironic as this: apparently the only way for Wikileaks to counter Bank of America and Paypal is to become as profitable as they are. Open up to « more wealthy donors ». Provide the general public with projections about donations (and, supposedly, tax deductibility). What's next? Selling shares to new investors via an IPO? Read more
by Antonio A. Casilli and Paola Tubaro
During the last week several voices of the international blogosphere have been discussing our study on the impact of social media censorship during the August 2011 UK Riots. As you know if you have been reading our blogs, our work was based on computational methods and aimed at showing possible scenarios of civil violence. We were adamant about the fact that our intention is to provide policy-making tools and a theoretical framework, while data collection about the riots and their possible social determinants is pending.
The hunger for data produces spurious correlations
A few of our readers have been particularly concerned with the fact that, for the time being, evidence is lacking. A particularly virulent one dismissed, in the comments section of a US blog reviewing our research, our results as unsubstantiated « opinions cloaked in technology ». In the current climate of ideological polarization, such attacks are to be considered – albeit epistemologically enticing – politically motivated. As is some of the « swift evidence » the Internet is regurgitating these days.
Exhibit A: the HumStats Blog, sprung from nothing on August 15th 2011, with only one post suggestively titled '2011 England Riots: Statistics of Ethnicity': a lengthy statistical tirade highlighting a « strong correlation » between the occurrence of riots and black population (unemployed black population, to be precise) while discarding other socio-economic status indicators as not significant. (The blogger's profile 'HumStats' is frugal to say the least. All we know is that this person is somehow statistics-savvy, but we have no indication as to the blogger's gender or ethnic background).
Nous ne pouvons plus nous dire, en même temps, « natifs » et « barbares » du numérique…
Deuxième épisode de notre grande saga bédé…
Le premier épisode d'une série BD qui devrait plaire aux grands comme aux petits…